Notable Tenth New Yorkers
Matthew Henry Avery
Commanded the regiment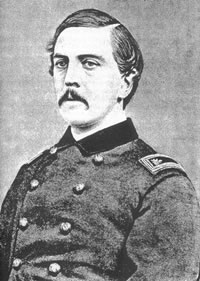 Matthew Henry Avery had field command of the 10th NY for most of its time in service. He was born in Middletown Springs, VT, on March 27, 1836. The son of a Congregational minister, he owned a book and stationery business in Syracuse at the outbreak of the war. Avery was described as being "a very popular young man, and enjoyed a large circle of acquaintance, his warm heart, genial manners, and happy temperament winning all hearts." Avery, caught up in the patriotic fervor prevalent in the North when the bluecoats were defeated at Bull Run, raised a company of cavalry at Syracuse and was soon appointed as captain. In September of 1861, Avery's Company A was mustered into service and transferred to Elmira where the other companies were to gather. Soon after, Avery's military talents attracted the attention of his superiors and he was chosen by the line officers of the regiment to be the senior major. By all accounts he was a good commander, and cool under pressure. He was known to survey an unfolding battle and calmly put his pipe back in its case before issuing an order. He had a deep, "stentorian" voice that carried well. Despite his strict Puritan upbringing, he had a great sense of fun, and his favorite song was "Son of a Gambolier" (a version of which later became famous as the Georgia Tech fight song.)
Made Colonel on November 30, 1864, Avery was wounded on December 1 but returned to the regiment to serve until the end of the war, leading the famous charge at Sailor's Creek on April 6, 1865. He was transferred to the 1st New York Provisional Cavalry when the regiment was mustered out on June 17, 1865 and was made a Brevet Brigadier General. After the war, Avery became a pioneer in the oil business.
Captain Wilkinson Paige
A disgraced soldier who returned to fight with honor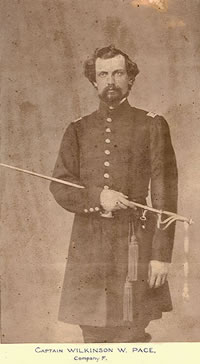 Captain Paige's unconventional behavior sometimes got him into trouble, but in spite of it (or perhaps because of it) his men loved him all the more. The intense expression of Capt. Wilkinson Paige in his photograph belies a strong sense of humor and an unconventional, but effective approach to leadership. Initially he was assigned to lead Company F, the most undisciplined company in the regiment. Nicknamed the "Pet Lambs," the boys of Company F were anything but—gangs of them ran the streets at all hours; if a prank was pulled it was likely that Co.F was at the bottom of it; but worse, they exceeded all other companies in discipline problems and desertions. Instead of applying harsh methods to bring these "black sheep" into line, Capt Paige chose to lead by example. He encouraged his "boys" to attend church, even leading some of the services himself. By the time the regiment left Gettysburg, Company F had earned a good reputation in drill and discipline.
At the same time, Paige attracted the ill will of his commanding officer, Colonel John Lemmon. Perhaps Paige's very success irked Lemmon, who himself had questionable military skills. For whatever reason, Lemmon marked Paige out for particular censure. Lemmon dismissed Paige from the regiment, but Paige (with the support of his many friends) successfully protested the action. After Lemmon left the regiment under clouded circumstances, Paige rejoined the regiment as captain of Company M. In a letter to President Lincoln, protesting Paige's reinstatement, Lemmon wrote irately that "Capt Paige is a very profane man" and proceeded (without regard to the fact that it was the President of the United States reading the letter) to enumerate the terrible oaths which Paige supposedly had uttered. He also, according to Lemmon, took the regimental band to serenade Southern ladies. Given Paige's temperament, it is not unlikely that he did these things. But Lemmon missed his mark in thinking that Lincoln (a practical man who was prone to using profane language himself) would listen to such protests.
Captain Wilkinson Paige was killed in action on June 24, 1864, while leading his company in one of the most desperate cavalry fight of the war (St. Mary's Church). Apparently, his former troubles with Colonel Lemmon were much on his mind that day, and he spoke of it to Lt. J.A. Edson shortly before he was killed. Edson wrote:
"During the fight, some of the men of Company D had piled up some rails as a breastwork. I was lying behind the rails near Herman Phillips and John McQueen, and Captain Page was lying on my left. I was impressed with his recital of his troubles in the Regiment made at this time, as he had never spoken to me before. While he was still talking to me, the rebels charged and forced us from our place . . . some of our men made a stand in defense of [Capt Dennison's] guns, and succeeded in checking the enemy, but it was only momentary. When the retreat was resumed, Captain Page had proceeded but a short distance, when he sprang into the air and fell to the ground. Phillips stopped to help him, but said he was already dead, and he therefore hastened on, and, the enemy being close upon us, Page's body fell into their hands."
After the war, the father of another slain 10th NY officer, Frederick Tremain, enscribed a copy of a memorial book to Captain Paige's father—a mark of esteem for his son's slain comrade.
Noble Preston
"The Little Commissary;" the only soldier in the Quartermaster Dept to receive a Medal of Honor; Historian of the 10th NY Cavalry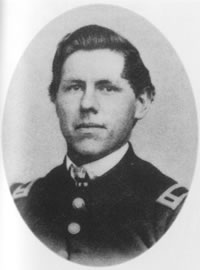 Those who served in the Quartermaster Department were often derided by their fellow soldiers for landing a "soft" assignment. Shells which overreached their targets, and hit far to the rear, were referred to as "quartermaster hunters." Noble Preston was one quartermaster who challenged that reputation.
On June 10, 1864, he knew that the Tenth was in for a big fight. So when they moved out on June 11, he accompanied the men rather than staying safely in the rear. In the charge to Trevillian Station, performed dismounted over ground raked by heavy small arms and artillery fire, he took over command of Company A when its captain, John Ordner, was killed. Major J.M Reynolds, then Lt of Company G, described Preston's actions:
"The bullets cut the [fence] rails with a death-dealing savagery that is terrorizing. 'Forward! Come on!' comes the order; the advance following quickly the brave, plucky little officer giving it as he scaled the fence defiantly, yes eagerly. We felt a sense of pride and manliness in our leadership. It was our commissary, Lieutenant Preston, who would have been thought doing full duty if back with the [wagon] train, out of harm's way. Ye who set a price on liberty and the war, tell me why was he there? . . . A volley half checked our advance, when I heard that indescribable sound of bullet striking human flesh and bones! Our gallant leader had received a ball, swinging him around almost into my arms. Never shall I forget the mingled look of pain and disappointment his colorless face revealed. It was an inspiration to 'go on!' which we did until the enemy broke again..."
Preston had taken a minie ball to the right hip, and was losing a great deal of blood. Eventually, he was moved to a wood where he stayed until nightfall awaiting rescue, accompanied only by his colored servant, Aaron. For his gallantry in battle, Preston was awarded the Medal of Honor.
Self-effacing and unfailingly fair-minded, he was not the type to speak poorly of anyone, and for that reason (as well as his excellent writing skills) he was chosen to write the history of the regiment, which was published in 1892. Wisely, he waited to publish the history until after its controversial first commanding officer had passed away, and even then, did not speak ill of the dead.
Read Preston's Historical Sketch of the 10th New York Cavalry.
Captain Herbert E. Farnsworth
Former "top soldier" of the 10th NY; Medal of Honor recipient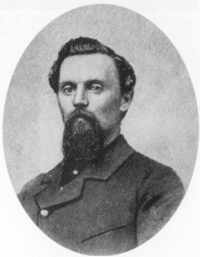 Herbert Elon Farnsworth was born August 23, 1834 in the village of Perrysburg in the rough, hilly country of southwestern New York, just across the border from Pennsylvania. His father Edwin had been born in the late 1700s in New Hampshire and his mother Phila in Vermont. Together Edwin and Phila presided over numerous children. Edwin was a farmer, not wealthy but of comfortable means, with possessions totaling $5,140 in 1850. Herbert stayed on the family farm and enlisted in the 10th NY Cavalry shortly after his 25th birthday in 1861. He must have been an excellent musician because he started his service as Chief Bugler. He quickly rose in the ranks to "top sergeant" of the regiment (Sgt Major) in 1862, and it was while serving in this position that he was awarded the Medal of Honor for gallantry in action at Trevilian Station, VA on June 11, 1864. Trevilian Station was the largest all-cavalry battle of the Civil War, and one of the most severe (for more information about this battle, read Glory Enough for All by Eric Wittenberg.) The Citation recorded that Herbert "voluntarily carried a message which stopped the firing of a Union battery into his regiment, in which action he crossed a ridge in plain view and swept by the fire of both armies."
Not long after his discharge in 1865, Herbert Farnsworth married Mary E. Darby (daughter of Hubbard Darby) from the nearby village of Persia. Her occupation was listed as "teacher" in the census of 1860. Their first child, Viola May, was born in 1869. Quite soon after the birth of Viola the family moved west; they are listed as living in Kidder, Caldwell County, Missouri in the census of 1870. Herbert's occupation was listed as carpenter/joiner. Their next and last child, Virginia E., was born in 1872. By 1880 the family was still living in Kidder. Herbert's wife may have died by 1890. He moved to Washington state between 1880 and 1890, and the 1890 WA census shows him living in Garfield County, Township E.D. 24. The 1890 Veterans Schedule shows him with a post-office box in Pataha City and suffering from "piles and a strained back" which he incurred during the war. Oddly enough, even though he had attained the rank of Captain in the war and had received the Army's highest honor, the veterans schedule lists him only as a Private. This suggests that when it came to the war he was a very private man. However, a late photo of him (I would guess in his 50s) appears in the regimental history, which suggests that he kept up a correspondence with his fellow 10th New Yorkers.
Herbert's younger daughter Virginia may have died along with his wife, because her trail disappears after 1880. Viola May accompanied her father west, and married Oscar Gilbert Heaton in Garfield County, Washington on Jan 3, 1895. The couple had a son, Herbert Farnsworth Heaton, in 1897 or 98. No doubt Herbert was happy to live to see a grandson born, and was proud to be his namesake.
Herbert Farnsworth, appropriately for a highly decorated soldier, died on the 4th of July 1908 in Clarkston, WA and is buried in Pomeroy, WA. His daughter Viola followed him in death shortly after; she died May 23, 1909 in Seattle, WA. Her husband remarried by 1914, and had additional children by his new wife, Elma. Herbert Farnsworth Heaton lived with his father and stepmother at least until the 1920s and worked as a repairman in the Seattle shipyards. Mr. Heaton died in Fullerton, CA in 1989; his descendants still live in California.
—Ken Morris
Service Record for Herbert Elon Farnsworth
Enlistment Date: 17 September 1861
DISTINGUISHED SERVICE
Side Served: Union
State Served: New York
Birth Date: 23 August 1834
Death Date: 04 July 1908
Death Place: Clarkston, WA
Service Record: Promoted to Full Chief Bugler
Enlisted as a Musician on 17 September 1861 at the age of 26
Enlisted in Company D, 10th Cavalry Regiment New York on 23 September 1861.
Promoted to Full Sergeant Major on 01 November 1862
Reenlisted in Company D, 10th Cavalry Regiment New York on 31 December 1863
Transfered on 01 August 1864 from company S(?) to company I
Promoted to Full Lieutenant 1st Class on 01 August 1864 (As of Co. I)
Transfered on 10 March 1865 from company I to company B
Promoted to Full Captain on 10 March 1865 (As of Co. B)
Mustered out Company D, 10th Cavalry Regiment New York on 26 June 1865 in Cloud's Mills, VA
Farnswroth is buried in Pomeroy, Washington. Visit his gravesite at:
http://www.homeofheroes.com/gravesites/states/pages_af/farnsworth_herbert_wa.html
Sergeant Lllewellyn P. Norton
A fighting Welshman; Medal of Honor Recipient
Llewellyn P. Norton was born May 11 1837 and died February 16, 1914. He received a Medal of Honor for his gallant conduct at Sailor's Creek on April 6, 1865. Justus Matteson wrote in a letter home dated May 22, 1864, "Sarg't Norton had a saber cut on the head"—apparently Norton was injured in saber melees more than once. Another incident recalled by Captain Vanderbilt--this one at the terrible fight at St. Mary's Church, June 24, 1864--testifies to his character:
"Sergeant L.P. Norton, of my company L, came to me for more ammunition for his part of the line. I stated the case to him that I did not think any one could get to us alive. He said, 'Captain, I know it's risky, but I'll chance it.' He soon returned with a supply and distributed it along the line safely. He had a narrow escape: a bullet spoiled his hat (he has the same hat yet). One went through his coat-sleeve and coat between his side and arm; three of four other bullet holes through his clothing, and one through his canteen. The rebels tried their best to kill him, for they could see him with the box, and know just what he was bringing up."
Norton certainly lived up to the reputation of his Welsh forebears, in that he never gave up.
Although Sergeant Norton was awarded the Medal of Honor on July 3, 1865, his medal was stolen from the desk of the Chief Clerk at 9th Corps headquarters, where it had been mistakenly sent. (See "The Case of the Missing Medals" below.) He did not learn of the award until 23 years later when he read his name among a list of recipients in Appleton's Cyclopedia—one of the longest delays in history.
Sgt. Norton is buried in Elmwood Cemetery, Preble, Cortland County New York along with his wife Jean A. and daughter Maryette Robertson. His gravesite can be viewed online at:
http://www.findagrave.com/cgi-bin/fg.cgi?page=gr&GRid=8274438
The Case of the Missing Medals
The following letters are at the National Archives:
Head Quarters, Dist. Of Alexandria
Ninth Army Corps
Alexandria, Va., July 19th, 1865

Personally appeared before me this day, Capt. G. Henry Patrick, Co. "E", 56th Mass. Vols. Chf. Clk. In Office of Asst. Adjt. Genl. At Head Quarters, District of Alexandria, 9yj Army Corps. Who being duly sworn according to law doth depose and say that he placed in his desk three packages bearing label of having been put up at the Adjutant Generals Office each supposed to contain a medal of honor and addressed to Sergt. Llewellyn P. Norton, Co. "L", Corpl. Andrew Bingle [sic] Co "F" and Corpl. James L. Carey Co. "G" 10 New York Cavalry respectively, which said packages were sent to Head Quarters, 1st Sept. Brigade in a sealed package with a number of others of the same kind and returned to these Head Quarters, the 10 N.Y.C. not being in this command. That on the morning of the 15th July when these three packages were about to be returned to the Adjt Genls. Office, with the receipts for those sent to the 1st N.J. Cavy. It was discovered that the one for Sergt. Llewellyn P. Norton had been stolen from the desk during the night of the 14th July by some person or persons unknown that due search and inquiry was made for the missing packages, but that the same has not yet been found. Further this department sayeth not.

---

Headquarters District of Alexandria
NINTH ARMY CORPS
Alexandria, Va., July 19th, 1865

To the Adjutant General.
U.S. Army
Sir:

I have the honor to submit the following statement relative to the loss of a sealed package said to contain a medal of honor awarded by Congress to Sergt. Llewellyn P. Norton Co. "L" 10th N.Y. Cavy.

A package enclosing eleven medals of honor was transmitted through these Head Quarters with letter dated July 3, 1865 from Adjt. Genl's Office to Brig. Genl' William Wells Comdg. At Fairfax C.H. July 7, 1865 – on the 14th July the letter of transmittance was returned to these Head Quarters with receipts from C.O. 1st N.J. Cavy. For eight of the medals and three were returned belonging to the 10th N.Y. Cavy which regiment is not in this command. On the morning of the 15th of July, when I was about to return the receipts and the three medals referred to through Dept. Head Quarters, it was found that one of these three had been stolen during the night of the 14th inst. By someone unknown. Every effort has been made to ascertain if possible the guilty partiers but no clue has yet been found. I enclose herewith affidavit of Capt. G. Henry Patrick Co "E" 56th Mass Vols., Chf. Clerk at these Head Quarters from whose desk the package was stolen. Continued efforts will be made to ferret out this affair.
Captain George Vanderbilt
A "dandy," but an excellent soldier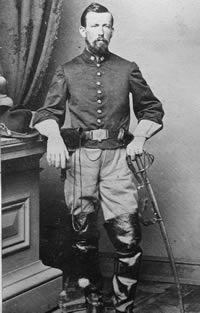 Captain George Vanderbilt was born on January 1, 1839. "Captain Van" as he was nicknamed, was apparently well educated and a good writer. His reminiscences are full of humor, and his essay about the first experience of green Tenth New Yorkers with their newly issued horses is often quoted in Civil War literature. He loved a good joke; Burton Porter recalled an incident where Captain Van ordered sixty men to report to the chaplain for "baptism duty." (Religious revivals had been sweeping the Pennsylvania regiments, and the chaplain had suggested that "something be done" about it.) The captain was happy to oblige:
"When the men were all ready for marching by twos, the captain turned to the chaplain and, with a wave of his hand, said: 'there, chaplain, are sixty good men which I turn over to you to be taken down to the creek and be baptized. No d----d Pennsylvania regiment is going to get ahead of the Tenth New York!'"
Captain Van was a natty dresser and wore leather gauntlets with large cuffs, and shiny high-topped riding boots. He rode a fancy pacing horse named "Black Dan." In temperament he was full of good cheer, enthusiastic and optimistic.
Captain Vanderbilt was well liked; the men of Company H presented him with an ornate and expensive German sword in 1862. To view the sword go to:
http://www.historicamericana.com/past_sales_view_item.asp?ItemId=5963
Captain Vanderbilt died on August 22, 1907. The fine headstone that adorns his grave at Arlington National Cemetery suggests that his comrades' fondness for him continued long after the war. It is enscribed, "Erected By His Friends."
Visit his gravesite at Arlington National Cemetery at:
http://www.arlingtoncemetery.net/george-vanderbilt.htm
Aaron Thomas Bliss
Senator from Saginaw County, 1883-4; member of Congress from the Eighth District, 1889-91; Governor of Michigan, 1901-5.
Aaron Bliss was born May 22, 1837, in Smithfield [Peterboro], Madison County, N. Y. He was the seventh child of Lyman and Anna (Chaffee) Bliss. Lyman traced his ancestry back to Thomas Bliss, a settler in Hartford, Conn., in 1636. He spent his early life on the farm, obtaining his education in the little schoolhouse near by. At seventeen he left home and secured employment in a store, where he remained until the Civil War broke out and President Lincoln made his second call for troops.
From his dry-goods store at Bouckville, Aaron T. Bliss enlisted, Oct. 1, 1861, in the 10th New York Volunteer Cavalry as a private in Co. D. He was soon promoted to first lieutenant, becoming captain a year later. He spent three years and five months in the service.
He was wounded and captured at Ream's Station, Va., and was held for six months as a prisoner of war in the prisons at Salisbury, North Carolina; Andersonville and Macon, Georgia; and Charleston and Columbia, South Carolina. After several fruitless attempts, he escaped from Columbia prison, Nov. 29, 1864, and finally reaching the Union lines near Savannah, Dec. 16, nearly starved. Broken health caused his resignation three months later.
In 1865 he went to Saginaw, Mich., and in the pine forests began a career that took him from a driver of logging teams to the head of one of the successful lumber firms of the Saginaw Valley. The scope of his business enterprises gradually enlarged until it embraced besides the manufacture of lumber and salt, banking, mercantile and farm enterprises, giving employment to large numbers of men. A paying farm of a thousand acres afforded recreation. On Mar. 31, 1868, he married Allaseba M. Phelps, daughter of Ambrose Phelps of Solsville, Madison County, N.Y. Allaseba shared both early privations and later success, and in philanthropy had a life all her own.
Mr. Bliss, in politics a Republican, took a leading part in the Michigan department of the Grand Army of the Republic, and also served his city as Alderman, Supervisor and member of the board of Education. Bliss was elected to the state Senate in 1882. When the board to organize and locate the Michigan Soldiers Home was constituted, he was made a member and served thereon until he entered the 51st Congress, representing the Eighth District (1889-91). While in Congress he secured the appropriation which resulted in the splendid federal building which adorns Saginaw, and the Government Indian school at Mt. Pleasant. In 1895 he was appointed aide on the staff of Governor Alger. His long service in the Grand Army of the Republic was signalized in 1897 by his election as department commander.
He was defeated for reelection to Congress; but in 1900 he wrested from six other candidates the Republican nomination for governor. He succeeded the spectacular H. S. Pingree, and was reelected in 1902. His name is linked with the establishment of the Indian School at Mt. Pleasant and the Michigan Soldiers' Home at Grand Rapids. He was a good administrator, and during his service as governor the educational and charitable interests of the state advanced steadily. He stood for the equal taxation of railway properties, and without being a reformer was a sound progressive. His gifts to Saginaw and to the Methodist Episcopal Church were extensive. Aaron Bliss died at Milwaukee, Sept. 16, 1906.

Source Citations:
Dictionary of American Biography and Genealogy of the Bliss Family in America

Michigan Biographies: http://www.usgennet.org/family/bliss/bios/ny/aaron.htm
Dr. Walter Kempster
Acting Assistant Surgeon of the United States Army 1864-5; mental health pioneer
Dr. Kempster was noted after the war for his research into the causes of mental illness; he was one of the first to hypothezise a biological basis for mental illness. He was the first researcher in the US to study the microscopic pathology of the brain and document it with photomicrographs.

From: 1881 History of Northern Wisconsin Illustrated
Bios transcribed by Kay R. & History by Jan Cortez
Page 1151 - Dr. Walter KEMPSTER, Superintendent of Northern Hospital for the Insane; was born in Syracuse, Onondaga Co., N.Y., May 25, 1841; attended common graded and high schools in Onondaga Co.; then spent about five years traveling with a tutor in the United States and Europe; returned to New York State about 1857, and then entered upon the study of his profession at the Long Island Medical College, from which he graduated June 30, 1864. He went into the Civil War as private, in Co. H., of the 12th New York Infantry; became Hospital Steward of the 10th New York Cavalry; was detached and placed on duty at the United States General Hospital at Patterson Park, Baltimore, Md.; made First Lieutenant of Co. D, in 10th New York Cavalry; participated in various battles of the Potomac, including that of Gettysburg; and, in 1864-65, served as Acting Assistant Surgeon of the United States Army; was in the service in all from 1861 to 1864, with the exception of six months, during which he absented himself to take his degree in medicine.

In 1866, he was the Assistant Superintendent of the New York Asylum for Idiots, at Syracuse, N.Y., from 1867 to 1873, Assistant Physician of the New York State Insane Asylum, and, from 1873 to present time, Superintendent of the Northern Hospital for the Insane at Oshkosh, Wis. He was married, in Baltimore, Jan. 1, 1863, to Miss Mirriem P. BAYNES, eldest daughter of Thomas BAYNES, of Baltimore. They have three children living - Sarah W., Agnes, Mary.

For a number of years, Dr. Kempster has been engaged in the study of the microscopic pathology of the brain, on which subject he has written several papers, beside taking a large number of photo-micrographs of brain tissue, normal and abnormal, a work in which he was the first in this country to engage. He delivered a lecture in the fall of 1881 before the Chicago Biological Society. His most notable case in surgery is that of the incision of three inches of the tibia, with recovery, reported in the American Journal of Medical Science. His literary contributions to medicine consist of articles in the American Journal of Insane, of which he was for five years associate editor; in the transactions of the International Medical Congress of 1876, and also in the transactions of the Wisconsin State Medical Society, and the reports of Northern Wisconsin Hospital for the Insane. He is a member of the Winnebago County Medical Society, of which he has been President; of Wisconsin State Medical Society, of which he has been Vice President; of New York State Medical Society; of American Medical Association, of which he has been Chairman of the section on Physiological Medical Jurisprudence and Chemistry; of the Association of Superintendents of American Institutions for the Insane; of the United States Association for the Advancement of Sanitary Science, and of the Wisconsin State Historical Society.
The Honorable Truman White
From: HISTORY OF THE BENCH AND BAR OF ERIE COUNTY, c. 1909
http://www.eriebar.org/about/mckinleywhitebio.html
HON. TRUMAN C. WHITE, Justice of the Supreme Court, is an eminent jurist and one of Buffalo's leading citizens. Before he received judicial honors Judge White won high rank as a practitioner at the Bar. He is a sound lawyer and an able judge, fairminded and possessing alike the confidence of the Bar and the public. He was born in Perrysburg, Cattaraugus County, N. Y., April 30, 1840. He there attended the public and select schools and Springville Academy. In 1861 he enlisted as a private in the Tenth New York Cavalry in the Civil War, serving successively as quartermaster-sergeant, orderly or first sergeant, and first lieutenant, being mustered out in July, 1865. While in the army he had spent much of his leisure reading Blackstone and Kent. In January, 1866, he entered the law office of Judge Stephen Lockwood. Shortly afterward he became a student and managing clerk in the office of that brilliant jurist Hon. Edward Stevens. In November, 1867, he was admitted to the Bar, later becoming associated with Mr. Stevens in the firm of Stevens & White. Mr. Stevens died in 1868 and Mr. White was afterward successively associated with George Wadsworth, Nelson K. Hopkins and Seward A. Simons. He carried on a large practice with ability and success; for many years prior to his elevation to the bench being regarded as one of the ablest legal practitioners of the city.

In 1885 he was nominated for the Superior Court bench of Buffalo, and received support from both parties. He failed of election by only fifty-seven votes in a total of 33,000, but was placed in nomination for the same office in 1891 and was elected by over 400 votes. When under the new Constitution the Superior Court was superseded by the Supreme Court, Judge White was transferred to the latter bench, entering upon its duties January 1, 1896, his term of office expiring December 31, 1901. He was then elected to succeed himself, and is now serving his second term.

Judge White takes an active interest in the institutions, social life and general welfare of Buffalo. He is a man of plain tastes, kindly manners and a straightforward candor, and he enjoys the regard of a large circle of friends.
Note: After this article was written Judge White presided over the trial of President McKinley's assassin.