Do you enjoy HISTORY and HORSES?
Join the Cavalry!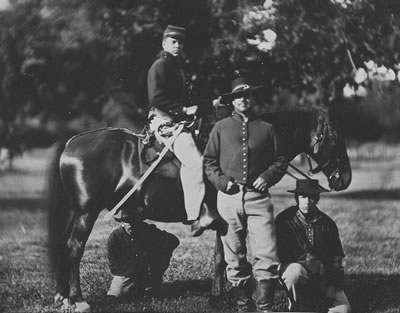 By joining the 10th New York Cavalry, you can travel back in time and experience the smoke and thunder of battle from the back of a horse.
We accept horses and riders of all levels of experience and start them from the ground up. We offer training for beginners, as well as exciting opportunities for experienced horsemen to show off their skills. We believe that a horse should be a cavalry trooper's willing partner, and we pride ourselves on excellent care and treatment of our horses.
If you want to rediscover the bond between the cavalry trooper and his mount, the 10th NY may be a home for you.
Photo: "Graduates of the Rough School of War." Recreation of original photograph of the 10th NY Cavalry. Ferrotype by Chuck Stembridge, July 2006.
Mounted: Christian Mulcahy. Standing: Martin T. Voelker. Kneeling (left to right): Marcus Johnson, Patrick Chamberlain. Horse: "Pistol," Morgan gelding owned by Chief Bugler Dan Miller.
Logo photo by Freedom Mobile Photography
Please do not copy photos from this site- they are copyrighted and cannot be used without written permission from the photographer! Thank you!